5 Learnings, musing and some hilarious fails from my 5 days cleansing with Sol Cleanse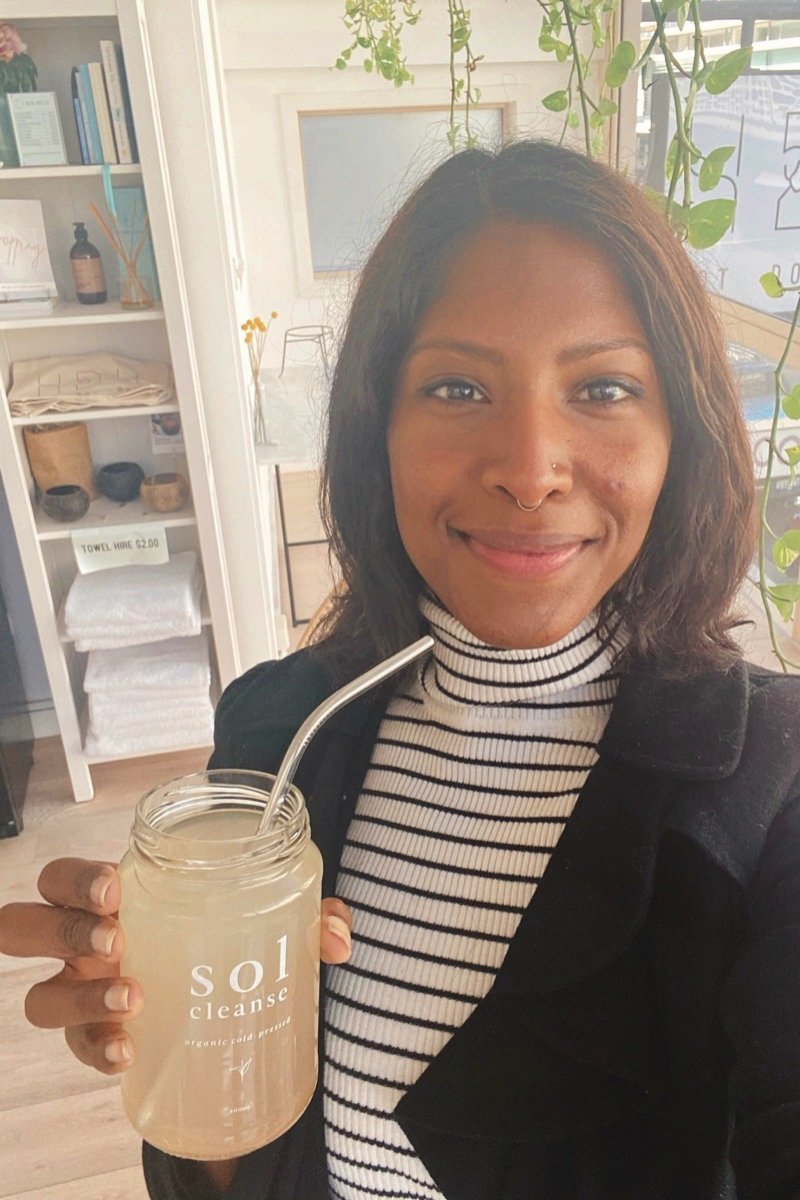 I'm thinking we've all at least heard of the term "Cleanse" before. The much raved about physical benefits and glowing testimonials out there drew me to try out the Sol Cleanse Quiz, which helped me identify the right cleanse for my wellness goals and physical/mental activity levels. The 10% discount for HDY members/teachers was also a lovely cushion for the ol' credit card when I hit "order".
1) Why Cleanse?
Once my cleanse order was placed, in my usual fashion I started wondering about the theories behind cleansing.
Cleanse, a verb, is defined as "making something thoroughly clean". This applies to our daily lives in so many ways already: from the moment we wake up, throughout our day, we religiously dedicate time to clean ourselves from head to toe (hello showers, shampooing, manicures, pedicures and more). This even extends to our belongings such as our cars and clothes.
I wondered, would it not then make sense to apply that same care to our insides?
Our digestive system works so diligently for us, and we rarely give it a conscious break aside from when we are asleep with the exception of those who fast, intermittently or for other reasons. The evidence-base supporting the benefits to metabolic health and weight management, digestion, skin health and energy levels from giving our digestive system a break is definitely gaining strength.
Additionally, the practice of withdrawing from excessive consumption, which includes eating, is practiced in many traditions and is associated with spiritual advancement. "Saucha", one of the "niyamas", which makes up 1 of the 8 limbs of yoga, definitely speaks to this too.
The above reasons were more than enough for me to feel enthused for this cleanse experience.
2) Preparation is everything – then buckle up, it's quite a ride!
I am going to be completely honest. I was a little underprepared for what an experience this cleanse was going to be. I went in thinking this would be easy-peasy for me, being a yoga teacher, salad eater, who has partaken in a cleanse before.
While some elements of the cleanse came easily to me due to similarities to my life already, the overall experience was vastly different to my norm. I definitely went on a full spectrum journey and came out glowing, inside and out.
The wonderful pre cleanse guide by Sol Cleanse, and the following tips from my experience will hopefully help set you up for a successful cleanse, in case you have already started to consider trying it out:
➔ Rope in someone else to share this experience with you
While I understand children are an exception, maybe a partner or flatmate can be convinced. On Day 2, when my senses were on overdrive and I turned into Godzilla (cacao cravings), it would have really helped me a lot to have someone else experiencing something similar in tandem to share with.
➔ This is definitely a time for cocoon living
If you are still on "staycation", due to the COVID-19 restrictions, this is actually the perfect time to do a cleanse. Being able to work with some flexibility around work, family and other responsibilities, and resting if needed will be very helpful in allowing your body and mind to adjust to the cleanse, particularly around day 2.
➔ Clean out your refrigerator
If you can, empty out the fridge, pantry and wherever else your stash of go-to's and pick me ups are kept in advance to minimise any temptations, and to facilitate an optimal cleanse environment. I didn't do this, and snuck in little bits of home-made dark chocolate every.single.day.
➔ Precede your first official cleanse day with a few days of lighter eating and living
Don't do what I did: in anticipation of the cleanse, I loaded up with a heavier "last supper" than usual, and followed it up with a cheeky baklava (yummy but very sugary). This may have meant that by day 2 (my Godzilla day), my system was quite shocked and deprived, and no doubt asking for more baklava.
It also may be a good idea to start to slow down on intense physical activity a few days prior if you can, and turn to things like mellow flow or yin yoga so your body is not fatigued when you begin.
3) Expect to be humbled by hiccups and hangups
My biggest mistake perhaps, was thinking I wasn't going to have any hiccups over the 5 cleanse days and that it was going to be easy. Be prepared to practice acts of self discipline as you float into a different way of existing. Things may slow down a little, which may not seem like such a surprise following COVID-19 times. There may even be some napping or lazing in the sun, even if you don't usually. There may be a reduced desire to do anything at all - a forced staycation in your skin, amazing! There may also be some frustration, as withdrawals to whatever your poison is, sugar, coffee or chocolate, kicks in around day 2 or 3.
The struggle is very, very real, so don't beat yourself up if you have a little slip-up. You will still feel the benefits of cleansing if you sneak something small in. What's important is you resume as per usual.
Expect to glow
This part of the cleanse journey is my absolute favourite. That tipping point when you start to feel shiny inside and out, which lasts throughout the remainder of your cleanse and beyond. For me it was on day 3. Godzilla was gone, my skin was literally glowing and I felt as light as a feather, euphoric and full of energy. Specifically, creative energy. If there's something creative you like to do like gentle yoga, painting, sketching, writing poetry or tinkering, go nuts! Not only do they serve as beautiful distractions, they also reignite healthy and creative ways to pass time in between the "must do's" of our usual routines, which I know can sometimes be taken over by screen time.
5) Deep appreciation for the day to day
While you and I are currently somewhat limited with avenues to shift our perspectives to feel those deep appreciative feelings for our usual day-to-day lives, like when we come back home from travel, this cleanse was the perfect reset button for me. After raging, snoozing, smooth yoga-ing and blissing my way through the 5 days, I was ready for life to resume, albeit a moment of wishing this total zen would be my day-to-day.
My first, gentle, nourishing meal post-cleanse was HEAVEN.
My first power flow was kick-ass.
I was so thankful for the abundance in my life, and grateful for the frills I am able to fuss about when I cook my food. I vow to carry forward with me what I have learned about how little we actually need to nourish our bodies deeply, and the benefits of taking it all down a notch and just being.
I also admitted for the first time in my life, that I am a cacao addict.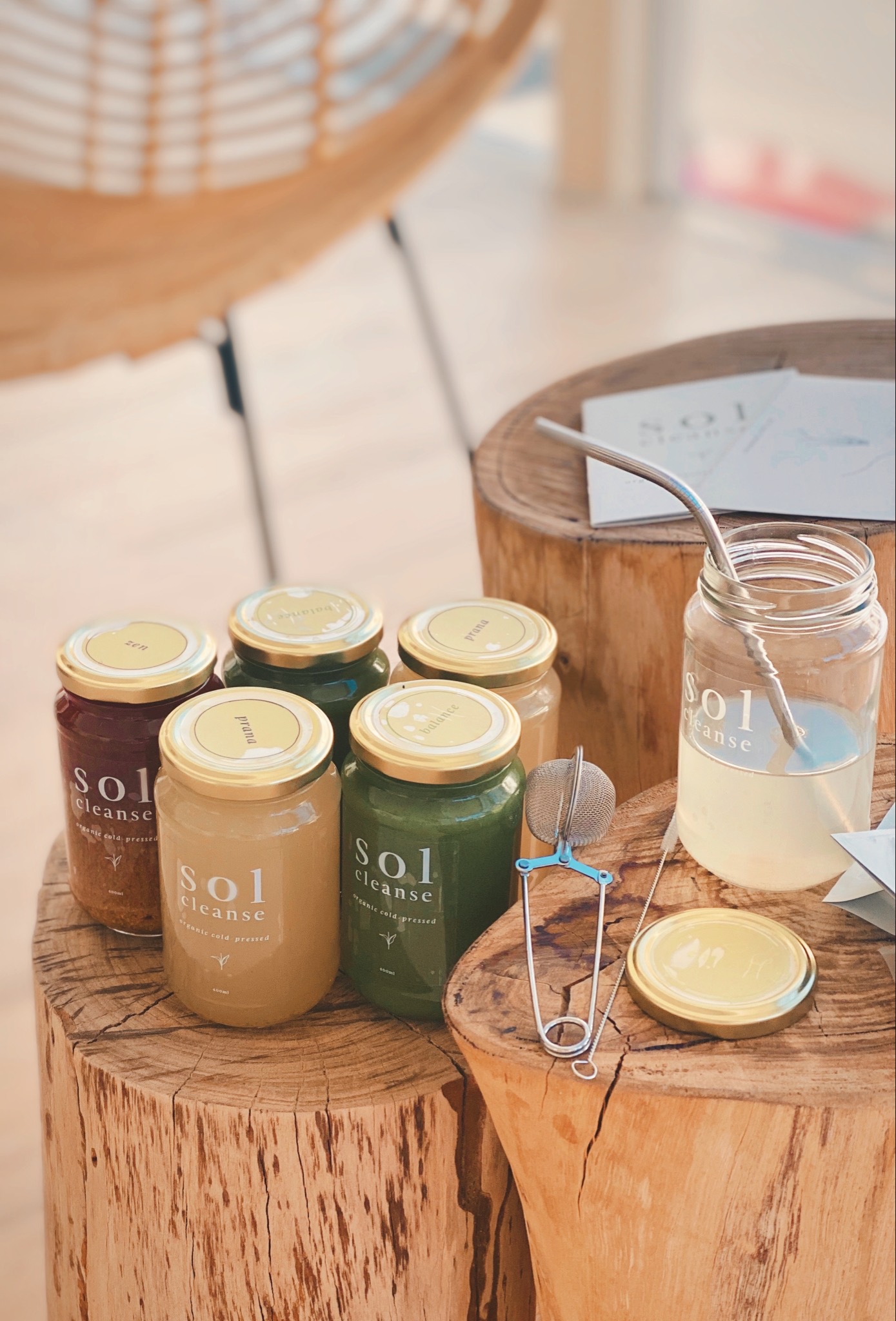 Thank you Hot Dog Yoga for bringing Sol Cleanse into my life.
Thank you Sol Cleanse for the magic in bottles you bring for those who seek a shift, reset or shake-up in their lives! This stuff is certainly cheaper than airplane tickets at the moment.