Get to know the Instructors - Kristy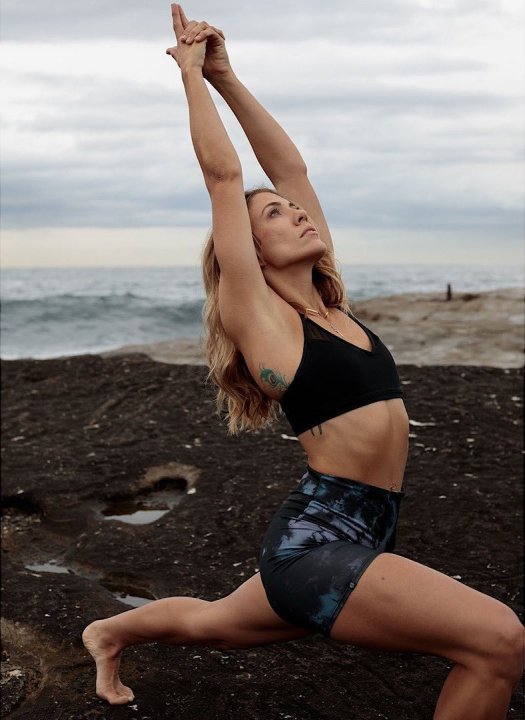 Outside of yoga, our lovely Kristy is a self-proclaimed professional court jester, having worked as an actor, improviser and presenter in Australia and Los Angeles. She loves hosting events that are fuelled with purpose such as Dog Rescue Adoption days and Mother-Daughter mental health retreats. She can devour a tub of Messina like no-one's business and belt out Eurythmics 'Sweet Dreams' at the whiff of a karaoke sesh. Find out more about her unique talents below:
A little taste of you:
I love calling in play and adventure in the everyday. From the simple things like playing with my rescue doggo Delilah in the gully or getting upside down on the Lyra hoop - they give me a physical and mental challenge that demands presence. I love to get lost in a book as much as I love to write my own stories. Laughing and being silly is a daily non-negotiable alongside moments of stilling the mind whether via meditation, breathwork or movement (preferably all three).
Why you became a yoga teacher:
My yoga practice healed me from the moment I struggled with the mind and shook in the body via my first Asana practice at 16 years old, right through to moving across the world. I experienced grief at a young age and the philosophies and practise of yoga helped me to process and keep my heart open. I saw firsthand the gift of space that teachers held, and I decided that I wanted the opportunity to share the profound wisdom I had experienced. It wasn't until I entered my thirties and continued shedding limiting beliefs surrounding my roles, that I gave myself permission to step into that arena. It's a privilege to pass on these teachings and to hold space and I am forever the student.
What to expect from a class with you:
I love a strong and dynamic Vinyasa class that works a particular muscle group or towards a peak pose. I embrace the dichotomy of science and spirituality as I lay out the technical cues for an intelligently sequenced flow. My aim is to get you radically present, some days that may mean being able to wobble, laugh and reset, others finding the modifications that align with you and keep that internal witness. I love to teach a soulful slow flow and Yin and grant as much space and meditative movement as possible.
Favourite quote:
The great Bards "There is nothing either good or bad, but thinking makes it so." and "How you do anything is how you do everything."
Favourite dog breed:
If I don't say Border Collie x I may be in trouble... I love a farm dog who isn't opposed to lots of cuddles.
Guilty pleasure:
Hmmm… I try not to feel guilty about pleasure - but maybe when I finish the Messina family pack solo.